products :: bibles :: devotional ::
Daily Study Bible for Women
Daily Study Bible for Women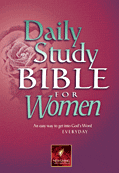 List Price:
29.99
ISBN:
978-0-8423-3334-4
Trim Size:
5 1/2 x 8 3/8
Binding:
Hardcover
Case Qty:
16
Release:
October 1999
Daily Study Bible for Women provides adult Christian women an opportunity to improve their understanding and obtain a fresh perspective of the Bible through daily study. Over 360 daily studies by Jill Briscoe guide readers to a Scripture passage and key verse designed to apply the passage to issues that influence women's lives. The devotionals are arranged in topical tracks that include "Hearing God's Voice," "God's Design for Marriage," and "Serving Others." The study includes a track outline to assist readers in navigating the daily studies, introductions for each book of the Bible, and other study helps to get women into the Bible easily every day.