products :: fiction :: historical ::
The Last Sin Eater
The Last Sin Eater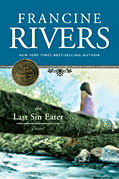 Out of print
List Price:
13.99
ISBN:
978-0-8423-3571-3
Trim Size:
5 1/2 x 8 1/4
Binding:
Softcover
Case Qty:
45
Release:
February 1999
1999 Gold Medallion Award winner!
A repackage of Francine Rivers's beloved novel, now with a stunning new look and bonus discussion questions.

All that matters for Cadi Forbes is finding the one man who can set her free from the sin that plagues her, the sin that has stolen her mother's love from her and made her wish she could flee life and its terrible injustice. But Cadi doesn't know that the "sin eater" is seeking as well. Before their journeys are over, Cadi and the sin eater must face themselves, each other, and the One who will demand everything from them in exchange for the answers they seek. A captivating tale of suffering, seeking, and redemption.