products :: fiction :: contemporary ::
And the Shofar Blew
And the Shofar Blew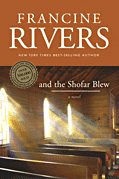 Out of print
List Price:
14.99
ISBN:
978-0-8423-6583-3
Trim Size:
5 1/2 x 8 1/4
Binding:
Softcover
Case Qty:
24
Release:
February 2004
2004 winner of a Retailer's Choice award from Christian Retailing

In the Old Testament, God called his people to action with the blast of the shofar, a ram's horn. God still calls his people today. In this relevant and timely contemporary novel, dynamic young preacher Paul Hudson is committed to building his church—but at what cost? As Paul's zeal and ambition build, he loses sight of the One who called him. As Paul and those around him struggle to discern what it truly means to live out their faith, they must ultimately choose between their own will or God's plan.