products :: nonfiction :: historical ::
Ark Fever
Ark Fever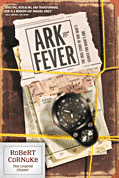 Out of print
List Price:
14.99
ISBN:
978-1-4143-0296-6
Trim Size:
5 1/2 x 8 1/4
Binding:
Softcover
Case Qty:
40
Release:
October 2005
Bob Cornuke is a real-life Indiana Jones, searching for evidence of biblical events and artifacts. In this book, he tells the story of his search for the remains of Noah's ark. Using investigative skills learned during his years as a police officer, Bob investigates all the clues, from ancient Scriptures to modern-day eyewitness accounts. His quest to learn the truth about Noah's ark leads him from his safe home in the foothills of Colorado to the dangerous mountain ranges in Turkey and Iran. Follow Bob as he risks his life climbing icy peaks, dodging bullets, evading capture, and much more. As you follow the trail of tantalizing clues to the place where Noah's ark may lie, you just might catch "ark fever" too!
Key points:
The author uses biblical clues to guide his explorations.
A true story that reads like a fiction adventure/thriller
.
Includes exciting photographs from the author's explorations.
Includes maps of the author's journeys.
Includes up-to-the-minute update from the author on his latest expedition (July 2005).