products :: teen :: issues ::
Let's Walk the Talk!
Let's Walk the Talk!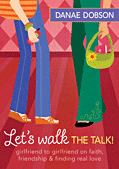 Out of print
List Price:
12.99
ISBN:
978-1-4143-0810-4
Trim Size:
5 x 7 1/8
Binding:
Softcover
Case Qty:
68
Release:
October 2009
As girls, we all need someone to talk to. Someone who's been where we are, who can offer friendly advice, who gets us. And when you're a teen, you really need a go-to girlfriend as you face issues like family dilemmas, peer pressure, changing friendships, body image, and all the other things that you might not feel totally comfortable talking to your parents about. That's where Danae Dobson comes in. In this follow-up to her best-selling book Let's Talk!, Danae shares her positive, Christ-centered insights on all the stuff that teens encounter today. Speaking girlfriend-to-girlfriend in her trademark "big sister" style, Danae encourages teens on their walk, reminds them they're not alone, and inspires them to keep the faith.