products :: teen :: juvenile fiction ::
Through Thick & Thin
Through Thick & Thin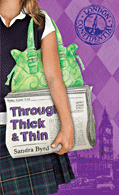 Out of print
List Price:
6.99
ISBN:
978-1-4143-2598-9
Trim Size:
4 3/16 x 6 7/8
Binding:
Softcover
Case Qty:
100
Release:
April 2010
Savvy Smith, 15, sees her chance to write a full column in the paper, making her name and making her way in her new hometown near London, England. But the choices she faces when given the chance to choose between friends, family, and fame may turn her dream into a nightmare.
London Confidential is a new series where British fashion, friendships, and guys collide, and an all-American girl learns to love life and live out her faith.