products :: bibles :: devotional ::
God Sightings: The One Year Bible NIV
God Sightings: The One Year Bible NIV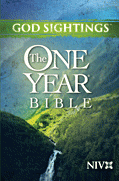 Out of print
List Price:
12.99
ISBN:
978-1-4143-3443-1
Trim Size:
5 1/4 x 8
Binding:
Softcover
Case Qty:
24
Release:
October 2009
The softcover edition of today's # 1-selling annual reading Bible, The One Year Bible, is being launched in both the New Living Translation (NLT) and New International Version (NIV), at the lowest price in 20 years. The One Year Bible helps people read through the entire Bible in as little as 20 minutes a day with daily readings from the Old Testament, New Testament, Psalms and Proverbs. In September 2009 Tyndale House Publishers and Group Publishing will launch a joint nationwide promotion aimed at engaging people in reading through The One Year Bible. The vision is to engage 10 million people around the world in reading the Bible 20 minutes each day starting in 2010.