products :: fiction :: contemporary ::
Fame
Fame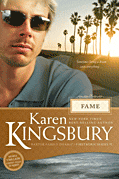 List Price:
14.99
ISBN:
978-1-4143-4976-3
Trim Size:
5 1/2 x 8 1/4
Binding:
Softcover
Case Qty:
40
Release:
October 2011
A fresh new look for the bestselling Firstborn series—the second installment in the continuing Baxter Family Drama from America's number one inspirational novelist, Karen Kingsbury. Revisit the Baxter family in all their life-changing events, or share the series with someone who hasn't discovered it yet.

In this first book, Hollywood A-lister Dayne Matthews returns to LA after his shocking discovery in Karen's bestselling novel Reunion. Though his life is filled with fame, fortune, and paparazzi, his heart is pulling him toward a woman and a family who have no idea how their lives are tied to his. Meanwhile, Katy Hart has finally found contentment as the director of Christian Kids Theater in Bloomington, Indiana. But that changes in an instant when she meets Dayne Matthews and he promises a future she left in her past.