products :: teen :: issues ::
Boom: A Guy's Guide to Growing Up
Boom: A Guy's Guide to Growing Up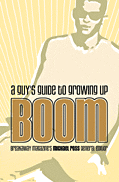 List Price:
19.99
ISBN:
978-1-58997-060-1
Trim Size:
6 5/8 x 10 1/8
Binding:
Softcover
Case Qty:
30
Release:
November 2003
2004 ECPA Gold Medallion winner!

Where can teen guys go when they have questions about their life and the changes they're going through? Boom: a Guy's Guide to Growing Up uses a low-profile approach to tackle all the issues guys face. They'll find honest and straightforward answers on sexuality and dating, physical changes, money management, spiritual growth, and more. This book provides the answers guys crave for understanding this crazy time in their lives.