products :: teen :: multimedia ::
Does God Exist?
Does God Exist?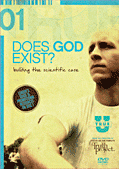 List Price:
39.99
ISBN:
978-1-58997-339-8
Trim Size:
Binding:
Video (2 DVDs) + 1 booklet
Case Qty:
20
Release:
May 2010
In this first DVD set of the TrueU series, Dr. Stephen Meyer plays a "philosophical survival game," pitting four worldviews against one another in the quest to decide which one gives the best answers. Dr. Meyer examines the evidence and provides the tools needed for students to defend their faith and make it their own. This is the perfect resource for students preparing to enter college and a culture that may be hostile to their faith. Additional discussion guides can be purchased separately, either in singles (978-1-58997-115-8) or in a 10-pack (978-1-58997-116-5).